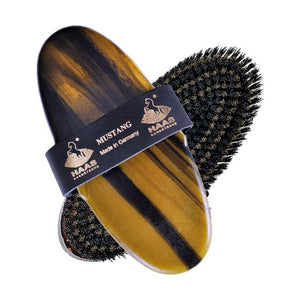 Haas Grooming Brushes
---
Haas brushes are made in Germany. Haas have been manufacturing brushes since 1919. All Haas brushes are made from specially  selected synthetic materials and natural materials such as horse hair and natural fibres. Haas brushes do not have wooden backs and the hand straps are attached before the brush bristles and no nails, screws or pins are used. The strap cannot loosen or be pulled out. This guarantees a long-life brush.
Benefits of the Haas brushes are
• Hygiene (as the brushes are washable)
• High stability
• Long-life
• Easy handling
• Water resistant
• Accuracy in assembly
• Better anchorage of the bristles
• No Splintering Inserted hand strap, HAAS patent.